REDNET FAQs
Below are some frequently asked questions about our service. If you have another question for us, please contact us.
Is there a contract?
No, our service is on a month-to-month basis. You do not have to sign any contract obligating you to keep the service for a certain amount of time. You can cancel anytime without a cancellation fee, although we are confident that you will not want to.
What does installation cost?
Installation costs $150. This includes all the hardware needed to get connected, plus running cabling into the house and setting up a router. We also include an AirCube router with our installation cost.
Do you really offer unlimited data?
Yes, we actually offer unlimited data, without throttling. We do not care how much bandwidth you use, and so we do not throttle or penalize you for using too much data. You can stream lots of video and download large files, and your internet will not get any slower.
What kind of router works with your service?
Any router with an Ethernet port for an internet connection will work with our service. This means that pretty much any normal router will work. (Cable modem/routers and DSL/dial-up routers do not have an Ethernet connection for internet, so these are not recommended for use with our service, although they still may work.) If you are looking to get a new router, here are two models that have performed well for us: Ubiquiti AirCube or Asus Gigabit Router
Does snow or bad weather cause connectivity problems?
No, they do not. Our antennas our totally waterproof, and so are not affected by bad weather. Actually, due to the atmospheric conditions in snowy/cold weather, our antennas actually work better in blizzard conditions!
Do power outages interfere with connectivity?
No, as long as you have a battery backup or generator. All of our towers and equipment are on battery backup power, so will keep running during power outages. However, if you want connectivity during an outage, you will need to keep the antenna power supply and your router plugged into a battery backup or generator.
Does our service work with an off-grid solar setup?
Yes, it does. The antenna/receiver only takes a maximum of 7 watts of power, so can easily be powered by solar. The receiver can also be powered directly from a 12 or 24v battery setup without an inverter.
How big is the antenna that is required?
The antenna is about 18in x 8in x 6in. Here is a picture: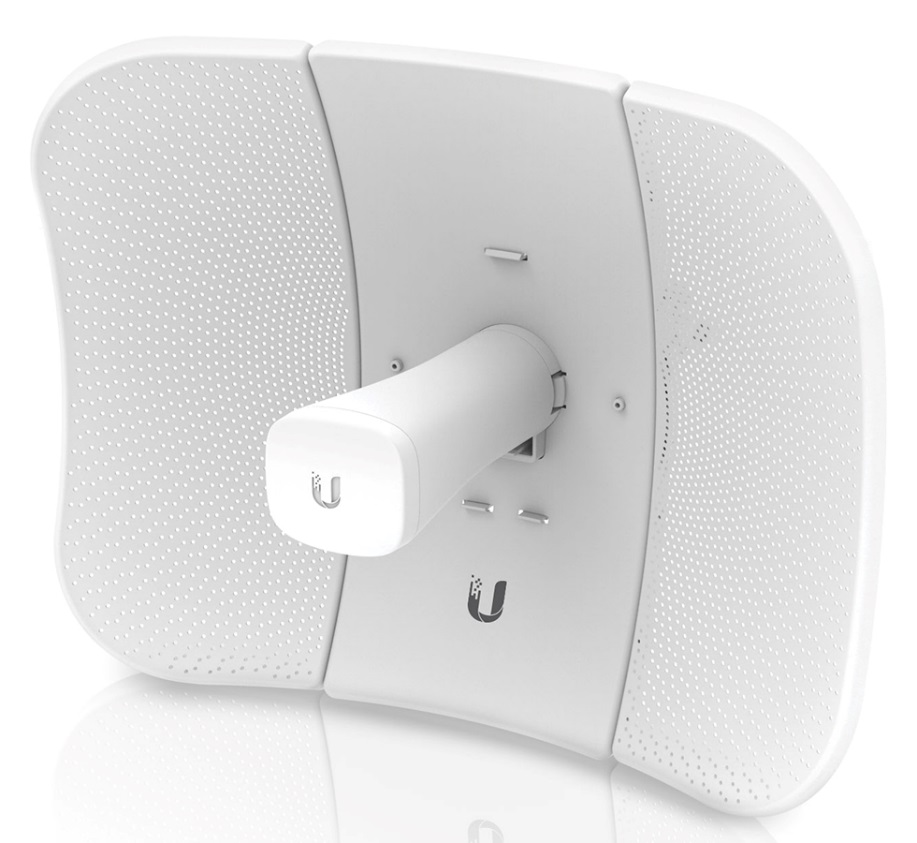 How does this work? Is this satellite internet?
No, our service is not satellite internet. We use wireless technology to beam internet service to our customers. We get our internet from a fiber line, and then distribute it via our own wireless network.